Description
Product Description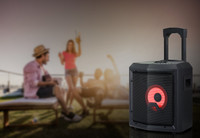 Clear and Powerful Sound
This home audio speaker ensures strong bass so that you can feel the thump of your favourite tunes at all your parties.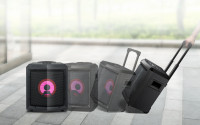 Telescoping Handle and Wheels
Thanks to the telescoping handle and attached wheels of this home audio speaker, you can easily wheel it around from one place to another in your house. Or, you can take it along with you to your friend's house or another event.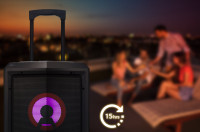 Long-lasting, Built-in Battery
The music will never stop at your house parties as this home audio speaker ensures wireless music for up to 15 hours at a stretch.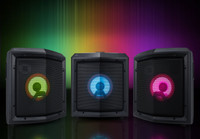 Multi-colour Lighting
This home audio speaker features coloured lighting that synchronises to the beat of your favourite music so that your guests have a great time at your party.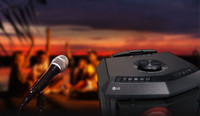 Be a Karaoke Star
You can sound like a singing star with this home audio speaker as it comes with a voice canceller, a key changer, and 6 different vocals and 3 echo modes. It can remove the vocals and tunes from most tracks so that you and your friends can have an authentic karaoke experience.
Bluetooth Feature
This home audio speaker enables you to switch between three Bluetooth-compatible smartphones so that you can play different playlists whenever you want to change the music.